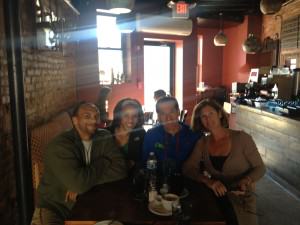 Forced Arbitration Clause for a Restaurant? Why?
arbitrate with a company picked by the Daily Grill.  Furthermore, the statement on the site shortens the statute of limitations to one year (meaning you only have one year from the date of an incident to file a formal complaint), imposes a secrecy provision (meaning you can not talk about it), and bans anyone from bringing a class action law suit.
Class action suits are an important vehicle for consumer protection.  Eliminating the class action suit as a possible remedy against a corporation stacks the deck in favor of big business.  Refer to our previous posts about this issue which is a frequent topic of discussion for Public Justice (PJ), a public interest law firm at which Virginia injury lawyer Doug Landau was the first law clerk in the 1980′s, when it was called "Trial Lawyers for Public Justice."
Public Justice Attorney Paul Bland suggests a new motto for the Daily Grill:
"If we accidentally kill you with food poisoning after you reserved your table on-line, we're going to try to rig the system against your family and keep it all quiet."
While Bland's suggestion is meant to be facetious, it does drive home the fact that clauses like the one on Daily Grill's site strip away the rights of the individual.
Lawyer Landau agrees, adding,  "So, if 30 people get food poisoning from the same pot of soup, they all have to sue separately?!!?"  This would simply clog the courts, cause unnecessary delay and expense to each of the innocent victims of the restaurant's negligent food poisoning."  If you or someone you know has been involved in a dispute with a corporation and there are questions as to what laws apply, email or call Abrams Landau, Ltd. at once (703-796-9555).