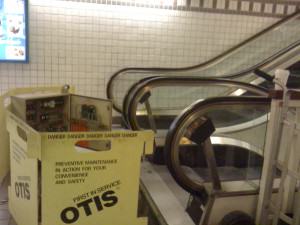 Escalator gaps still causing children's injuries; Norman Landau's Otis Elevator case revisited Jury in Personal Injury Lawsuit Orders Otis Elevator to Pay $2.85 Million for Child's Escalator Accident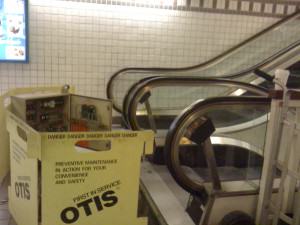 A $2,850,000 verdict against the Otis Elevator Company reminds us at the Loudoun Fairfax ABRAMS LANDAU law firm of Norman Landau's extraordinary case against this same defendant.  Landau's case, on behalf of a child whose foot was crushed because of an excessive gap in the escalator's steps, resulted in a record verdict in New York City.  When the gap between the moving steps and the metal sides of the escalator are wide enough, they create a dangerous trap or "pinch point" that can swallow a child's foot or hand in seconds.  The extraction of the child's limb from the moving machinery, however, can take a long time, during which, the child can be in excruciating pain and agony.  Injury Lawyer Doug Landau, Norman Landau's son, recommends that parents hold on to their children whenever riding up or down an escalator, and that adults watch to make sure hands and feet do not come too close to the gap between the moving steps and the sides of the escalator.  If you see a large gap or damaged step, report it to the premises owner or operator immediately !
In the escalator accident case reported in the Worcester newspaper, a jury awarded $2.85 million to the plaintiff and his parents.  This tragic escalator accident occurred when the boy was only 4-years-old.  He was 13 at the time of trial.  The jury also found that Otis Elevator Co., the maker of the escalator in question, should pay the boy's parent $250,000 each.  The lawyer for the plaintiffs had argued that the company was responsible because the settings on the specific escalator violated the company's own safety standards.  The child's hand was mangled after he fell on an escalator and his had was nearly amputated by the moving structure.  According to the report in the Insurance Journal, his hand slipped through a gap between the escalator and its side panels.   His father will use some of the money awarded for further surgery to improve the functionality of his son's mangled hand.  If you, or someone you know, has been injured in an escalator or elevator accident, please e-mail or call us at ABRAMS LANDAU (703-796-9555), as there are legal time limits for bringing such claims, and a parent's time limit may not be as long as that of their own child.