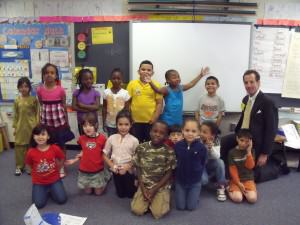 Doug Landau brings supplies to Alexandria public school students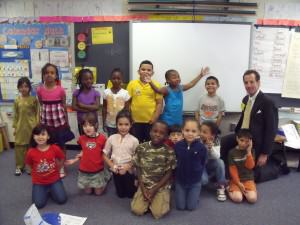 Clearview Elementary School in Southern Alexandria, Virginia was the scene of herndon Reston area trial lawyer Doug Landau's recent "road trip."  After an appearance in the Alexandria Circuit Court, lawyer Landau visited the second grade classroom of Ms. Holtje, which ABRAMS LANDAU had donated money to buy books and reading center.  Ms. Holtje runs a wonderful classroom, and Landau hopes to return to read to the children, just as he did at Navy and Crossfield Elementary Schools in Western Fairfax County Virginia.
The ABRAMS LANDAU team works with injured and disabled children regularly, so it is a real pleasure to work with healthy, happy children.  He salutes hard working public school teachers like Ms. Holtje, whose budgets have been cut, and whose classrooms are often overcrowded and who receive less and less support from the communities whose children they try to teach.  This site will publish some of the wonderful thank you notes and pictures from the students soon.