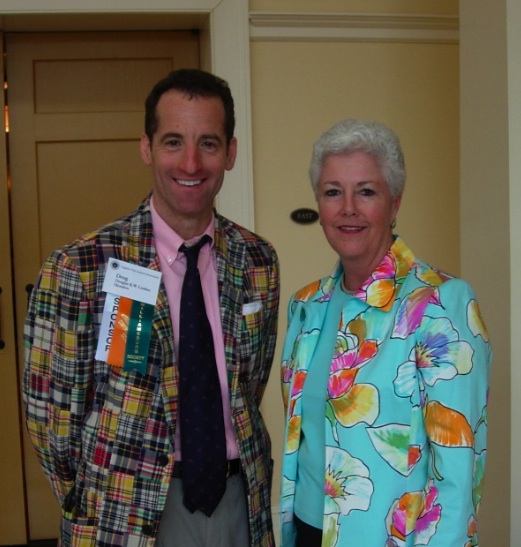 Do lawyers wear nothing but black pinstripes and gray suits ?
Anyone who has seen Doug Landau teach, interact at the office or at Bar functions knows that the Herndon – Reston area trial lawyer does not stick to the somber, boring colors associated with his profession.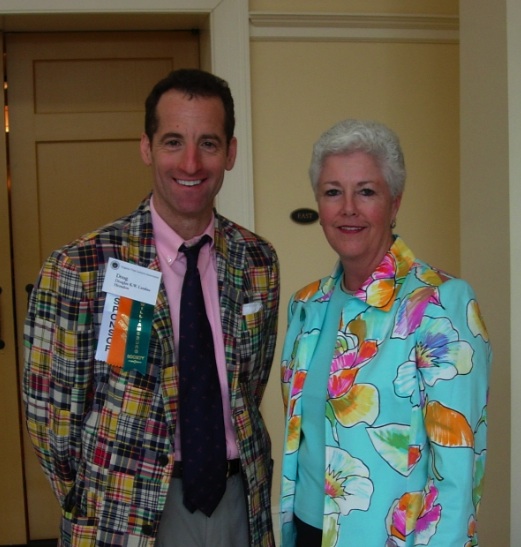 Landau notes that while it is important to dress conservatively for Court, around the office and on the podium, wearing colors is his rule, rather than the exception.
The ABRAMS LANDAU personal injury trial attorney is shown here with Mrs. Rasmussen at the VTLA Annual Convention.  Landau and his family had taken part in the charity fundraiser "Bowling for Bruce."  This fun family fundrasing event was set up in memory of her late husband and Stalwart Virginia Trial Lawyer Bruce Rasmussen.  It was Bruce Rasmussen of the Michie, Hamlett, Rasmussen & Tweel firm in Charlottesville who got Doug Landau on the Annual Convention Committee and in charge of the sporting events, which now include: skeet shooting competition, running race, tennis round robin and golf tournament.  Bruce Rasmussen was also a frequent lecturer and contributer to VTLA, ATLA (now AAJ) and other victims rights and trial advocacy groups.  Bruce is missed by us all.  He was the consummate trial lawyer and a wonderful friend and mentor.