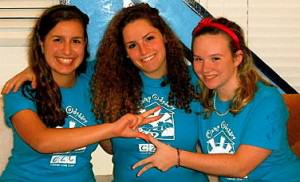 Comfort Zone Camp: Healing the world, one grieving child at a time.
Weeks before the camp, my KKG sisters, Rachel Salinger and Morgan Rowland drove up to Ocala and back in one day in order to get trained for the program. I was touched by their commitment to a cause I care about. I knew the camp weekend would be unforgettable.
I met my little buddy, an energetic, sporty young girl who was unsure about the camp ahead. My buddy lost her father to lung cancer and was not the type to share immediately. We bonded quickly when we found we had similar interests: soccer, drawing, tricking our brothers and laughing.
In just two days I was able to help one little girl open up about her fathers death and experience emotions she did not know she could. Half of the camp time is devoted to healing circles, led by trained professionals who also volunteer their time. The healing circles are a time for sharing stories of loved ones and for all of the little buddies to relate to one another and feel support from the entire group. The other half of camp time is just that: camp time. The big and little buddies play icebreakers, compete in games and make sure that the children get to smile just as much as they cry.
I knew that my time with my little buddy had an impact on her. But I had no idea that this, my second time with the program, would hit me so deeply and emotionally. I think Comfort Zone Camp provides more than a place for children to heal. It provides a home for anyone to grieve, without judgment and without pressure.
At the campfire (a CZC tradition), my buddy and I threw notes into the fire and watched the smoke take their ashes into the sky. At that moment I felt a great weight lift off of my shoulders and I realized we all need time to come to grips with our emotions in our own way. I hugged my little buddy and knew there was nowhere else I would rather be than next to her, both of us crying, but so happy to have each other.
Click to learn more about the Comfort Zone Camp program.