Combining Law and Marketing
Always eager to learn more about marketing and how to educate clients, Lawyer Doug Landau invited Kia Arian of Zine Graphics & Print out to Herndon, Virginia to meet with members of the Abrams Landau staff. Landau believes education is critical to success in and outside of the courtroom. He said, "We are always looking for new ways to share information with clients, prospective clients, co-counsel, health care providers and others that we work with in order to assist our disabled & injured clientele."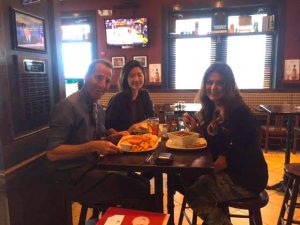 Abrams Landau, Ltd. Education Director Stephanie Yoon has been assisting with the Law Shop's websites, blogs, newsletters, written publications, social media, information distribution and more. There will soon be a rollout of the new websites with more consistent navigation, updated design and hopefully greater ease of use.
Zine Graphics & Print is a retail design and print shop located in the heart of Fairfax, VA. They offer design, print and marketing services for newsletters, brochures, logos, and more. If your business is looking to ramp up its marketing, be sure to check out Zine!
The dynamic duo from Abrams Landau not only gave Kia a tour of the Law Shop buildings, but also the downtown historic district of Herndon, finishing up with lunch at O'Sullivan's for some traditional Irish fare.