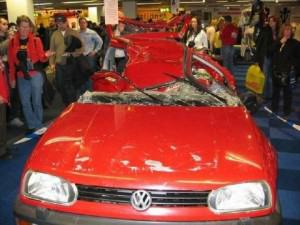 Can you even see the motorcycle ? Bike crash with motorist on her cell phone results kills both drivers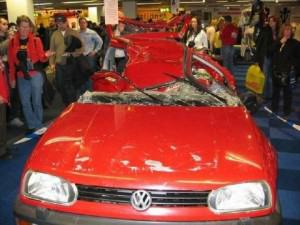 The Honda rider was traveling at approximately 85 mph. The VW driver was talking on a cell phone when she pulled out from a side street, apparently not seeing the motorcycle. The riders reaction time was not sufficient enough to avoid this accident. The car had two passengers and the bike rider was found INSIDE the car with them. The Volkswagen actually flipped over from the force of impact and landed 20 feet from where the collision took place. These photos were sent to me by a client from Radford, Virginia.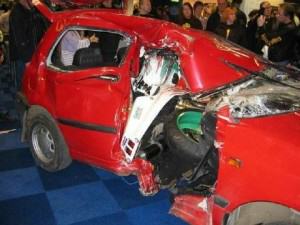 All three people involved (two in the car and the bike rider) were killed instantly. This graphic demonstration was placed at the Motorcycle Fair by the Police and Road Safety Department.
The message to be taken from these picutres:
Stop talking on Cell phones and Texting while trying to drive.
Put your Cell phone in the back seat, glove compartment or trunk !!!
If you or someone you know has been injured in a bike or car crash, e-mail us at ABRAMS LANDAU, Ltd., or call 703-796-9555 today.