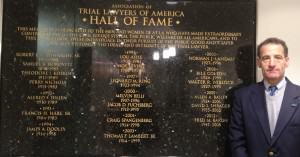 American Association for Justice Hall of Fame – A Rare Honor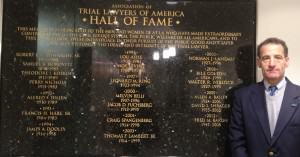 In a previous post we discussed the makeup and mission of the American Association for Justice (AAJ).
In today's post we highlight an honor bestowed upon only a select few AAJ members — induction into the AAJ Hall of Fame.
What is the AAJ Hall of Fame
The Hall of Fame award is presented to an AAJ member who throughout the course of his or her career made an impact and positive difference toward the civil justice system.  (Source AAJ website)
But this is not just any old award.  It is extremely rare and is bestowed upon only those whose contributions have been enormously significant.  Out of several hundred thousand lawyers who have been members of AAJ since its inception in 1946, only 20 members have made the Hall of Fame — ever.  Unlike the Rock 'n Roll or Baseball Halls of Fame, some years there are no inductees.
The 2013 (and 21st) inductee into the Hall of Fame was recently named:  Howard F. Twiggs.
Norman J. Landau, 2005 Inductee
Virginia trial lawyer Doug Landau understands the grand scale of Hall of Fame inductees' contributions to the civil justice system because his own father, Norman J. Landau, received the honor in 2005.  New York lawyer Norman Landau was a co-author of "The Environmental Law Handbook," "Toxic Torts" and "Premises Liability: Practice & Procedure,"  (on which Doug Landau was also a contributing author). Since the senior Mr. Landau was friends and colleagues with many other inductees of his time, Doug himself grew up personally knowing many of them.  In fact, Landau was sworn in to the Florida bar at the home of 2008 inductee Bill Colson.
For a complete list of past inductees click here.
The importance of a fair civil justice system is not lost on lawyer Landau.  In fact, watching his own father zealously defend the rights of the injured inspired Landau's career choice.  If you or someone you know has been injured due to no fault of your own and there are questions as to what laws apply, email or call Abrams Landau, Ltd. at once (703-796-9555).