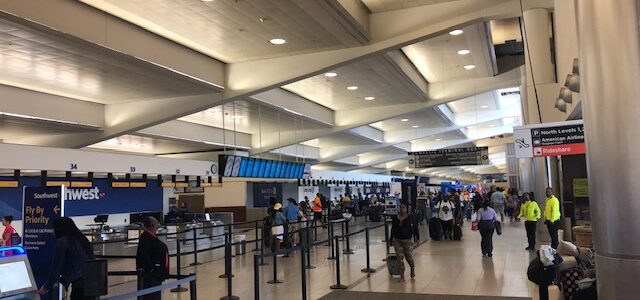 Caught on Film, But Still Can't Win – Airport Slip & Fall
Airport Slip & Fall: Caught on Film, But Still Can't Win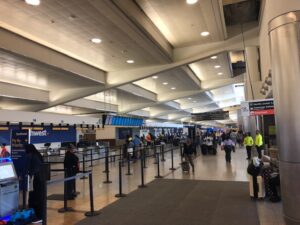 The airport terminals at Washington Dulles International Airport (IAD), Ronald Reagan National Airport (DCA), and most other large commercial airports have surveillance video cameras recording 24/7. Many times, the airport injury team at Abrams Landau is contacted by someone who has been hurt while going to catch their flight or coming home from a trip. Most callers assume that if the airport authority or airline representative gives them their insurance card, risk-management department contact information, and/or their business card, their company is responsible for all the damages. Unfortunately, this is far from the case, notes experienced Airport Injury Lawyer Doug Landau.
If a member of the airport/airline risk management team gives a traveler their business card, it is not a "blank check" or promise to pay for anything, notes Landau. This is simply a smart "public relations" tactic in front of other onlookers who are present or who come to the scene quickly. The representative may say, "We've got this under control, you can go to your flights, gates, etc." This is to show that everything is being taken care of and people in a hurry to catch their flights or rides home are not then going to stick around.
Secondly, the airport authority police work for the airport. They are not state, county, or local law enforcement officers. Their reports may not be readily accessible to the injured passenger or their family. The same is true of the firefighters, EMTs, and other Emergency Medical Personnel at the airport terminals and Air Operations Areas (AOA).
When the other travelers see airport authority employees or staff giving information, they don't see the need to give the injured traveler their contact information to serve as potential witnesses. This means that the airport/airline authority has:
– all the witnesses that they want,
– access to surveillance footage,
– a captive police force, and
– even their own dedicated emergency medical personnel on the grounds of the international airport.
Doug Landau, Kristin Tanzi, and other members of the Abrams Landau Airport Injury Team have reviewed quite several surveillance films for traveler injuries resulting in permanent impairment and disability.
However, many of these films are of cases that cannot be won in a Virginia Court of law. This is because it is often unclear what caused the traveler to fall or how long the substance was on the floor. Virginia law requires that the injured pedestrian prove "notice" before a property owner/manager is held liable for damages. The court may examine the traveler's vision (or impairment), choice of footwear, and speed of walking.
The surveillance footage is critically important, but it can make a case AND break a case. If the surveillance film shows that the traveler was bumped by another traveler, who would not be a party to the lawsuit or tripped over their baggage, they may be deemed "a cause" of the calamity, which would preclude any recovery under the law of the Commonwealth of Virginia.
There are many aspects of airport accidents and terminal or runway premises liability-type claims that are unique to these cases, such that an experience of legal assistance is vital. With experience helping travelers for over three decades, the Abrams Landau Airport Injury Team stands ready, willing, and able to help. Not every case is one that we can go forward on, as there must be sufficient evidence of legal responsibility by the airport, airline, and/or maintenance company. In addition, there must also not be any evidence of any fault on the part of the traveler. There are strict legal deadlines that apply.  If you or someone you know, and care about has been thoroughly injured as a result of an incident at an airport, on the runway, in the terminal, or on board an aircraft, and there are questions about the laws that apply please contact us at (703) 796–9055, or email frontdesk@landaulawshop.com.