Why are travel injury cases more complex, expensive and difficult?
One of the main reasons that travel injury cases are more difficult is because the incident, place of medical care and the injured person's home tend to be completely different locations. The plaintiff typically lives in one state, gets injured in transit in a second state but usually wants to continue his or her journey, so medical care occurs in a third state.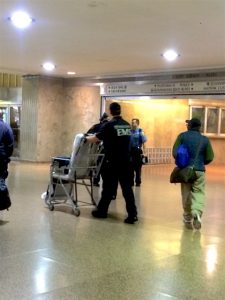 Therefore, gathering the necessary evidence is also more complicated. Bringing a doctor from out-of-state to trial, or having their videotape deposition at their out-of-state offices, can be very expensive. Plus, witnesses may be from other sites and countries, as well! Witnesses are reimbursed for their travel and lodging, and different states have their own rules for what a doctor or witness can be compelled to do.
The Abrams Landau, Ltd. airport injury legal team has helped many travelers and airline employee injured while traveling for vacation or business, and these cases all pose their own unique issues. The important thing is to get experienced counsel involved right away and to secure the evidence so that the case can be proved in court even years later. Too often we are contacted too late to be of any assistance, as witnesses disappear, memories fade and videos are erased or lost.
If you or someone you know or care for has been injured as the result of an airport terminal, airplane or other travel related accident and there are questions about what laws apply, e-mail or call us at ABRAMS LANDAU, Ltd. (703-796-9555) at once.