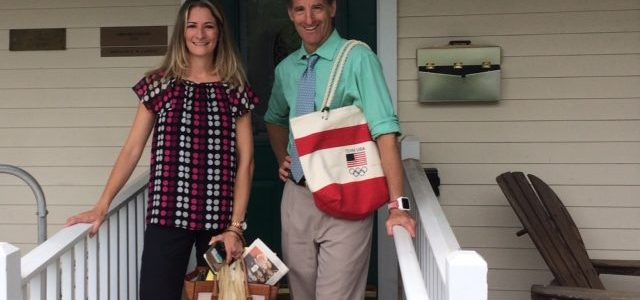 Have You Heard of Brain Injury Services?
Michelle Thyen, the Directer of Community and Volunteer Engagement of Brain Injury Services, recently stopped by the Abrams Landau office and we are eager to share the good work and mission of Brain Injury Services. Brain Injury Services has been active since 1989 and was awarded the title of "Nonprofit of the Year" by the Fairfax Chamber of Commerce in 2014. Brain Injury Services provides programs to assist survivors of traumatic brain injury in the Northern Virginia, Rappahannock, and Winchester areas. It aids in empowering and assisting in the recovery journey for survivors, both children and adults, of traumatic brain injury and currently serves an estimated 97,000 individuals. It employs innovative programs including over 20 specialized programs and 9 core programs while also utilizing multiple support groups, fundraisers, and events to offer care to individuals and spread awareness of brain injuries within the community.
Lawyer Doug Landau sustained a brain injury himself in 2014 while preparing for the Duathlon National Championships which gave him a new perspective on his clients' experiences and the necessity of working to ease the pain of brain injury cases. Landau even started Lids on Kids, a program where he visits local elementary schools to teach about brain injury prevention and to giveaway bike helmets.
At Abrams Landau, we value the spreading of awareness on brain injuries, the employment of proper security measures to aid in preventing brain trauma, and proper care to ease the recovery process one faces after brain injury. Thus, Brain Injury Services, and their mission of "Repairing Lives. Recovering Possibility. Restoring Hope." is one we greatly support and feel personally connected to.
If you would like to contribute to the greater mission of mitigating the difficult recovery process for survivors of brain injury, stroke, and concussion, then there is an upcoming opportunity with the 14th Annual Charity Golf Tournament hosted by Brain Injury Services on Monday, September 18th, 2017. This golf tournament will be held at the Country Club of Fairfax and funding will aid in assisting the programs used to aid survivors of brain injuries. Whether through participating and/or being a sponsor, you can help support hundreds of survivors of brain injury who are in need of hope on their path to recovery! Find out more at www.braininjurysvcs.org/GOLF or contact Austin McNair at 703-451-8881.